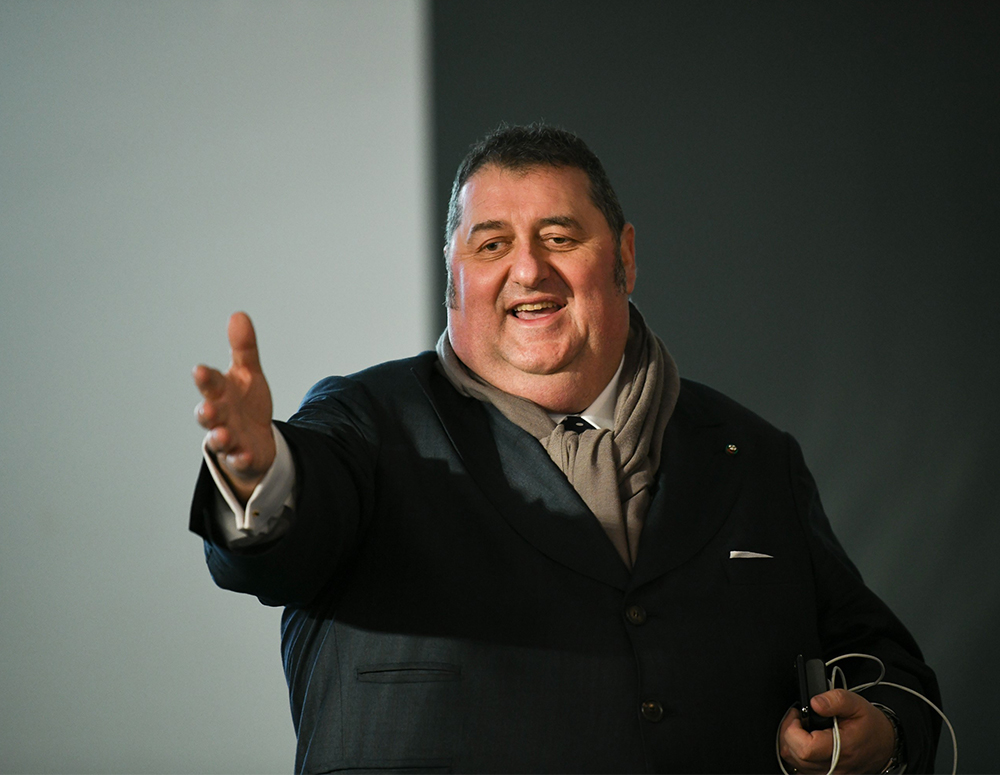 15 Mar

Interview with Professor Massimo Bergami, Dean and CEO, Bologna Business School

Prisma Reports (PR): I would like to begin today's interview with what might be considered 'an elevator pitch' in the business world. How would you sum up the 'essence' of Bologna Business School and what does it mean to be part of the Alma Mater Studiorum – University of Bologna, the world's oldest university? What values and ethos does BBS stand for and draw from its history?

Massimo Bergami (MB): The Alma Mater Studiorum was created in 1088 by students from all over Europe for the benefit of fellow students. The history of the university is very connected to the concept of a boundaryless international community of scholars. In the Middle Ages, our founders joined in associations, the 'Nations', hiring professors to teach them different disciplines, which is a very contemporary way thinking and acting. The University was recognized as independent from any other authority by the Emperor a few years later, so that learning and teaching in Bologna were really independent. During the 900th anniversary of the university, 388 rectors from all over Europe met in Bologna to sign the Magna Carta Universitatum, to affirm the principle of "academic freedom and institutional autonomy, as guidelines for good governance and self-understanding of universities in the future". On those premises, in 1999, 29 European Ministers of Education met in Bologna to sign the Bologna Declaration, starting from here the Bologna Process. The Bologna Process is the one that created the European Higher Education system. The University of Bologna has been a point of reference for the entire history of education and international integration in that area. This is our heritage: Bologna Business School was born in a context where these values are very well regarded and still drive our everyday effort: interdisciplinarity, autonomy, an international mindset, strong integration with the world of practice.

(PR): Leaving behind one of the most challenging years in recently history, we all look to 2021 with hope and optimism. What are some of the most valuable lessons you learned during the last year and what new priorities have you established for yourself as you kick off the new year?

(MB): We conceive the individual as the center of the learning process, a concept that shifts the focus from the teacher to the student. Since the very beginning of the COVID-19 emergency, we knew that value was becoming a categorical imperative to preserve our identity and values even in the face of the difficulties brought on by the pandemic. Students come to the Bologna University Business School to learn and they are the epicenter of the organization's strategy and action. Our mission is to provide students opportunities to better learn, through the teacher knowledge and experience, through our facilities and technologies, through our network. And here I'd like to stress another very important ingredient of learning at BBS: it is the social dimension of learning. Enabling interaction between professors and students and between students themselves was the most difficult part in this situation. When in 2020 we had the first cases of COVID-19 in Italy, we immediately closed the School and within 5 days we moved all the courses online. The real issue we had to tackle was figuring out how to leverage the knowledge of professors to create an effective environment for online learning, where the challenge was, and in part still is, to help people to interact in virtual environments, in a very different way they were used to at BBS. We created a lot of different initiatives to involve them, especially during the lockdown periods. During the first three months of lockdown, we enriched the programs with a number of corporate and alumni speeches, created informal rendez-vous online, and invited international guests. On the other hand, in such a situation you can easy invite people from all over the world without traveling and logistics efforts. We also created 'BBS React', an initiative for groups of our students and alumni aiming to help companies in trouble because of the pandemic. Together with our partner Ferrari, the automotive manufacturer, we are developing a virtual reality based program to support interaction between participants during lockdowns.

If we had to highlight what singles out our school from the rest, I would highlight our interdisciplinary approach. We have a specific focus on industry champions, regardless of their size, in sectors such as supercars, superbikes, motorsports, food and wine, mechanics, automation and robotics. Italy is not a place known for its number of inventions, however here you can find global champions in integrating new technologies in innovative processes and therefore creating world-leading products. This is the competitive advantage of many Italian industries, including many B2B companies, that may not be that well-known, but are real industry champions in their own business. We help those companies grow internationally and manage their transition towards digitalization. We try to provide a new generation of talent for such companies. Usually, such champions have very strong links with their communities from many different points of view. Similarly our community is a unique strength, including the large network of international alumni, as well as our partners that -for example- are building with us a new center for management education on sustainability and climate change.

(PR): Now more than ever before, corporations are valued for their contributions to social development and global sustainability. What is Bologna Business School's strategy to produce the socially responsible leaders and managers of tomorrow, and which forms part of the school's vision to empower students to 'Live, Learn and Lead'?

(MB): Learning is a never-ending, life-long process. I believe that students and professors are quite similar, since they share the same passion for learning. They may have different roles and orientations, but they are all scholars. Moreover they share the mission to lead and help others to develop their own skills and attitudes. People development stands at the core of our mission. There are many ways to help our students to grow and develop a responsible attitude: we have courses on Business Ethics and Sustainability in each single program, we joined the UN initiative to assess the students' improvements in this field (Sullitest), we continuously organize meetings with companies who can tell stories in this field. We believe that sustainability has to do with values but also competitive advantages. The difference lies in the time frame in which you look at the company's results. If you are very focused on the short-term, maybe investing in sustainability or community development can appear to be a cost. If you take a medium or long-term perspective, it is an investment and it pays back to the company. Taking a broader stakeholder perspective is a matter of maintaining quality relationships with your community. At the end of the day, this is also the source of competitive advantage for many companies of our Region.

(PR): I would like to talk about innovation and leadership in this next question, especially as it applies to your own research. How do you personally define innovation and its role within highly competitive organizations? In your opinion, what are the most effective ways to teach the intangible skills of creative leadership and innovative thinking?

(MB): I believe that innovation can be unleashed through the search for efficiency. Usually, people innovate when trying to become more efficient, which is incremental innovation. Then there is the disruptive innovation, which usually requires some 'slack' resources. It is not that focused on efficiency, when it starts at least. In the very beginning, you need to accept the possibility of failure, as well as the fact that innovation rises from the combination of different perspectives. Our approach towards innovation has a very interdisciplinary essence. We are very good in bringing together different people and experiences. Those are usually sources of inspiration for our students and participants. Learning happens not just in the classrooms, but in companies as well. We carry out workshops with executives, discussing various issues, trying to learn from other people's experiences. Serendipity can be used as a driver and method for innovation, especially when exploring uncharted territories. You need to have strong knowledge and skills, but those are just the enablers of innovation. We try to focus and provide the opportunity for students to exercise such skills, but we do not consider those skills the ultimate goal of our offering. Those are the enablers that people can leverage to achieve innovation. This is what we also notice in many industry champions in our region, country and worldwide.

(PR): In this context could you tell us a bit more about the I.D.E.A entrepreneurship platform in terms of its evolution and how it has been successful in creating a vibrant ecosystem and start-up culture among your students and other stakeholders?

(MB): The I.D.E.A. (Innovation – Development – Entrepreneurship – Alma Mater ) is one powerful platform that shows the richness of our ecosystem. Here we created a number of programs and initiatives that include incubators, business plan competitions, and collaborative projects with international institutions.. Our School organizes yearly one event dedicated to start-ups, where former students that created a company as a result of their final project work can meet with other entrepreneurs and investors.

(PR): Executive management education has become a constant in the business world, allowing corporations around the globe to invest in their talent in a more 'outsourced' way. How has executive education evolved at Bologna Business School in recent years and what exciting, new programs are now on offer or to be launched soon?

(MB): Our Global MBA is focused on Italian leading industries rather than functions, in order to be as close as possible to the world of practice. And when we come to programmes on technology management, our approach is far away from abstract models. We are also committed to become more and more international in terms of students and faculty. Given some constraints of the Italian system to hire international faculty, we involve a large number of visiting professors holding long-term appointments. Management skills are enablers for students to become business leaders: a real leader generates new leaders, inspiring people to be more innovative and to lead on their own account.

(PR): This question will have a dedicated section on our website. If you could choose anyone from history as your mentor, who would you choose, and why?

(MB):I have been very lucky in my life, being related with many masters that I consider also my mentors. The first one that I remember was my teacher at the elementary school, Francesca Broccoli. She was very demanding, but she gave us the opportunity to understand how to learn. Later on, the Bishop Gilberto Baroni, one fathers of the Vatican Council II was a spiritual guide. To this day, some important academic mentors for me are Richard Bagozzi from the University of Michigan, Gianni Lorenzoni and Severino Salvemini, two young retired professors from Bologna and Bocconi University. Last but not least, I would include Beniamino Andreatta, a prominent figure in politics, as well as Romano Prodi, former President of the European Commission and still the President of our Supervisory Board. If I had to pick just one, I can't choose: they all changed my life. Mentoring is directly connected to the BBS approach: our payoff is multiplying opportunities for people, organizations and the society in general.

(PR): What would be your final message to the readers of Foreign Policy magazine?

(MB): The 'Live, Learn, Lead' motto sums it all up for me. We live in unique times for sure, with a lot of opportunities to learn. We have the responsibility to lead and support other people to live, learn and lead.