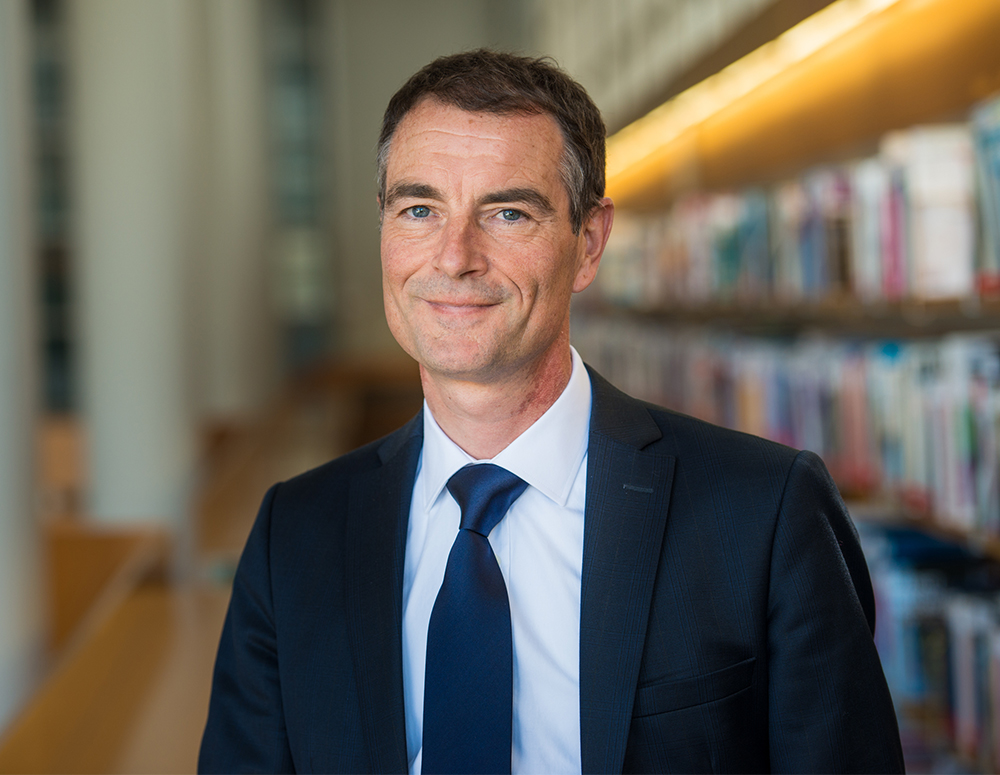 15 Mar

Interview with Professor Christophe German, Dean, Audencia

Prisma Reports (PR): How would you sum up the "essence" of Audencia and what makes it unique? What does the newly launched approach "DARING TOGETHER" and strategic plan, ECOS 2025 stand for?

Christophe German (CG): We started planning our strategy during the pandemic at the beginning of May 2020 and we invited all of the school's stakeholders to be a part of the process. After much reflection, in November we highlighted three major changes over the next five years for Audencia. The first is the creation and use of responsible information and technology. The second is the development and adoption of managerial approaches that promote inclusive organizations. The third is the design and implementation of a sustainable business model. Audencia aspires to accelerate the transformation of individual organizations and society for good. I would say that the objective of the school is not to be the best school in the world, but to be a better school for the world.

To implement this new strategic plan we've designed four axes. The first is the launch of Audencia's School of Ecological and Social Transition. This school is fully part of Audencia and all its students will be exposed to issues related to ecological and social transition. They will follow courses and work on projects given by companies. The specifics would depend on each program. For example, the students of the master's programs will do two semesters there, following training related to social and ecological transition. This school will have its own governance and building and will include all stakeholders representing this topic. It will also be open to the public and offer free training for people, companies, and for all stakeholders to promote ecological and social transition. It is the first ecological and social transition school to be launched by a European business school.

(PR): How would you characterize your experience and that of the University during this last year? What were some moments of resilience, and new opportunities that emerged during this time?

(CG): This past period shows a high level of solidarity between stakeholders and it's one of the main findings emerging last month. Another major thing we learned is that students want an in-person experience at our campuses. Four or five years ago, some people asked if online courses would substitute traditional courses in class, and we have now realised that students want to be on campus.

During this period we were very flexible, adaptive and it's true that it was not easy to drive strategic thinking, because all of our meetings were online and we never met physically to work on this new strategic plan. But this period has demonstrated strong solidarity between all stakeholders at the school.

(PR): How do you see the role of universities in preparing the responsible leaders that the corporations of the future needs in terms of social development and global sustainability?

(CG): It is our responsibility to integrate all of these topics into our courses. It is also our responsibility to train students such that they are prepared to face the challenges related to social development and global sustainability. These students will be the decision-makers of tomorrow in companies. To make good decisions, they will have to take into account sustainability, inclusivity, and responsible technology. I think that they will have an impact on the transformation of companies and of our society. That's why it's our responsibility now to train students on these issues and future challenges.

(PR): What are Audencia's latest accomplishments in adaptive learning methods and how are you also equipping your students with the necessary skills to lead the ongoing technological transformation of corporations?

(CG): During the last 10 months, we have progressed a lot in terms of online courses and I think our campus is now ready. We have transformed classes, to be able to teach in person and online. The second way we've evolved is that our faculty are comfortable with online teaching more than in the past because they've been doing it for the last 10 months. But, our main transformation is not related to teaching. It is related to all the services that we offer students in addition to courses. For example, services related to career support or other services that we offer to get closer to the students and alumni.

(PR): How do you personally define innovation and what strategies do you employ to inspire innovation among your students and faculty? What can you tell us about the success of Audencia's initiatives to help students develop the intangible skills of innovative thinking and entrepreneurial drive?

(CG): For us, innovation is related to holistic multidisciplinarity. More than 10 years ago we launched the Alliance, which is a partnership with an engineering school and an architecture school. In the framework of this alliance, we launched a common incubator, double degree programs, and very recently, we launched a joint program with the school of engineering at the bachelor's level. It is a program in big data and management, and it is at the heart of our strategy. Also, students go abroad for a semester. Up until now, they have had to do the semester in a university or business school in management. But, starting this year we allow students to go to schools that are not focused on the field of management. For example, students can go to a gaming school in the Netherlands, or to a diplomacy school in Washington, or a gastronomical school in Italy. For us, innovation is at the crossroads of disciplines, at the crossroads of engineering and management, of law and management, of political science and management. It's not only a response to the needs of companies but also to the interests of the young generation that in the future won't want to only study management or engineering or literature. They will want to combine all their interests.

(PR): In your opinion, what is the sweet-spot or "perfect equilibrium" between theory and real-life business?

(CG): It is a complex question. To be good in terms of pedagogy you need to find a good balance between the theoretical and practical approach. Practical, professional approaches and allow one to understand issues. When you know theories, theoretical approaches, and frameworks you are in a better position to understand challenges and issues related to the world and to business. But indeed, you must combine theoretical approaches with testimonies, professional approaches and learning in order to be pragmatic.

(PR): How would you describe Audencia´s global footprint today, with its campuses in France and China, and what are your international ambitions for the future?

(CG): Our international strategy is based on the fact that we never go abroad alone. We have developed some collaboration in China, for example in Chengdu, Beijing, Shenzhen and we are launching a new campus in São Paolo, Brazil in collaboration with FECAP. When we go abroad, we always open our campuses in collaboration with local institutions because we consider that it is a more effective way to understand the local ecosystem, the country, the people, and the culture. We did the same thing in Africa. This year we launched two Executive MBAs in Africa, in Senegal and Morocco. Again, these were done in collaboration with local universities. That's the main feature of our international strategy.

(PR): How has executive education evolved at Audencia in recent years and what exciting, new programs are now on offer or to be launched soon? 

(CG): I think it's crucial because executive education activities contribute to connectedness with companies. It's very important for our relationships with companies and it's also very important for all of our faculty to be in contact with companies. We have developed a program called Tipping Point which is an ad hoc program that we propose to companies that conducts research, provides new learning spaces, creates library resources. It creates new pedagogical approaches to better fit company needs and not only to train managers in companies but then also to accompany managers to implement what they learn during training sessions.

(PR): If you could choose anyone from history as your mentor, who would you choose, and why?

(CG): I would say mine would be Abraham Lincoln because he faced an immense task and he succeeded in maintaining the Union based on his values. He had strong values that are important for life, and he never abandoned or betrayed them, even if the challenge to maintain the Union was so very difficult.

(PR): Final message to the readers of Foreign Policy magazine?

(CG): We aim not to be the best school in the world, but to be a better school for the world.