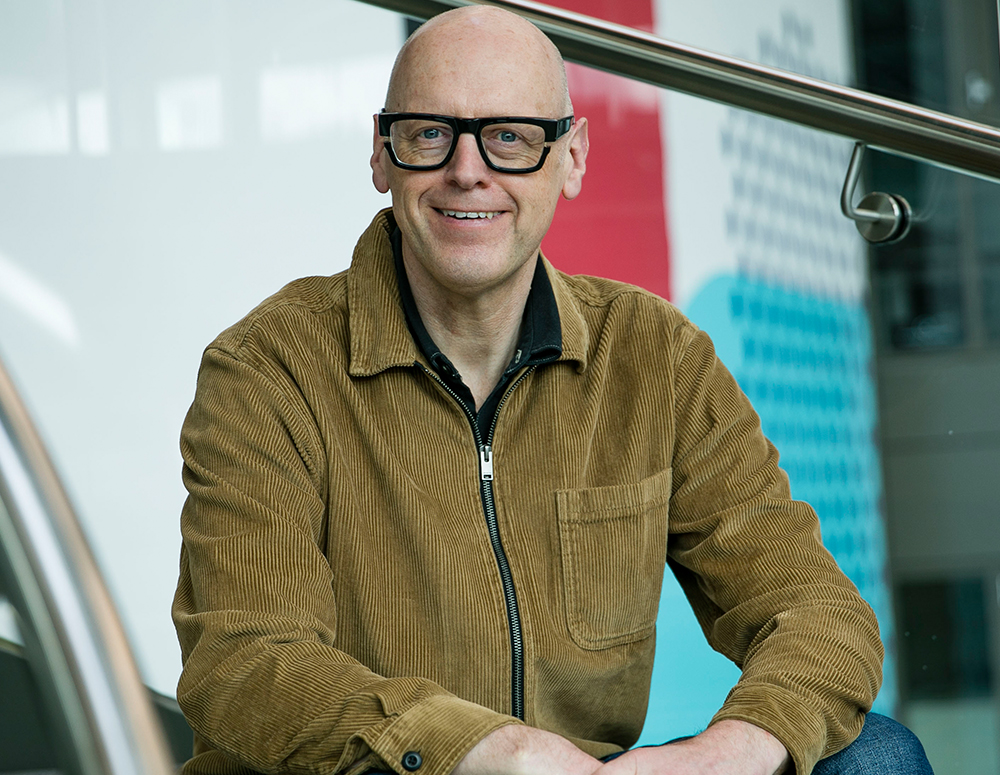 25 Jan

Interview with Professor Andrew Burke, Dean of Trinity Business School, Dublin, Ireland

Prisma Reports (PR): Could you introduce Trinity Business School, part of Trinity College Dublin, to our readers? What makes it unique and what values does it stand for?

Andrew Burke (AB): When I arrived at Trinity six years ago, I needed to get an insight into the core values and motivating factors around which we could build a strategic mission for the school. So, I took about two-and-a-half months to meet every employee individually for a coffee. We then crafted what we call the Business School DNA, which comprised both existing and aspirational values and the ethos for the school. In short, we aim to provide an education focused on business performance, embedded with an awareness beyond profit, while having a real impact on society, where we also do not lose sight of the students' wellbeing. We invest in rigorous research and programs conducted in real-business environments in the heart of the vibrant and friendly international business hub which is Dublin city.

With that common vision in mind, we then mapped out what we wanted to do to launch new programs, transforming existing programs and launching a whole new range of activities. We appointed directors inspired by that same DNA and, once the early stages of laying down the blueprint were over, I could step back and they were literally off and running. This community-wide effort was how we were able to scale up so fast and it was genuine, because we were not trying to be anybody else other than ourselves and that gave everyone an inherent sense of confidence. A central part of our value system is devolved innovation and devolved leadership, which means that you trust your people, empower them as well as giving them responsibility.

Our university is over 400 years old so has centuries of being at the cutting edge of research and innovation. However, it also has a long tradition of engagement with industry. So, Trinity Business School grew up in that culture of research and industry excellence, alongside a strong sense of business ethics and the desire to be a force for good. We want our graduates to make an impact, not just in terms of careers, but also in association with non-profit efforts and in society as a whole. Our new building also reflects our DNA. In 2019, we finished our eco-friendly structure, which is powered by natural ventilation, solar power, two green walls and rainwater harvested on a roof garden is used for the sanitation system.

We value diversity in our student body and normally cap the number of postgraduate students from any one country at 30%. We also place an emphasis on diversity. It caught us by surprise to find that we were in the top three and four in the world in The Economist and FT rankings in terms of student and faculty gender diversity. Keen on benchmarking ourselves in the international landscape, we prioritized triple accreditation from AACSB, AMBA and EQUIS, which we achieved last week.

(PR): How would you describe the effect of Brexit and the COVID-19 pandemic on your school and what opportunities have emerged as a result? 

(AB): Our school community was generally saddened by Brexit. We would much prefer Britain to be part of the European Union (EU). However, in some cases it has strengthened the school as many non-British academics are choosing to work in the EU in Ireland rather than outside of it in the U.K. We are now the largest native English-speaking capital city in the EU, so this is attractive to students and staff; especially as we have so many European headquarters of global multinationals located in Dublin. However, Brexit has not been something that has caused us to alter our strategy, which was already well aligned by being focused on increasing our international market share and presence.

In terms of COVID-19, devolved leadership really paid off because, had we not had such a high level of responsibility and ownership, it would have been an organizational nightmare. Everyone was already so used to taking responsibility for their own areas and so the transition to remote working and education was relatively smooth. On the student side, they were exceptional, understanding, accommodating and they just got on with it.

The value of the school community kicked in. We had people dropping food off to sick members of staff and generally everyone looked out for one another. We set up online 'casual cafes', as we call them, just to keep in touch with people. From the distance-learning side, it catapulted loads of people into the future. We had already been developing a blended flexible learning MBA as well as a virtual multimedia lecture room, which we call the Matrix Room. The swift move to remote learning accelerated those innovations. We will never give up our amazing campus experience, but blended learning incorporates things that purely in-person learning alone does not achieve. Had it not been for COVID-19, we may not have won over the doubters.

(PR): What is your vision for producing the socially responsible leaders and managers of tomorrow?

(AB): The challenge we face is to move from teaching business ethics to creating ethical leaders. When financial pressure comes into play and market forces kick in, these business leaders often deviate off the path in terms of behaving ethically to avoid running out of cash. It requires being able to teach students how to change the preferences of consumers so that they value ethics when choosing what to buy. We desperately need ethical leadership right across the board because we are in the middle of a climate, biodiversity and human-rights emergency and we are running late. If you change consumer preferences to demand ethical products and services, then you force firms to have to meet those selling points to avoid running out of cash. Likewise, most of these same consumers have a vote, so you also change voter behavior, which changes government regulations and policies, which changes investor behavior. If you get those three things aligned, then you have got change that is going to be permanent. This is what we mean by real sustainability and generating it requires ethical leadership.

You also cannot take the high moral ground behind the lectern, telling everyone what they ought to do and then not look at your own impact on the environment. So, we have taken steps towards walking the talk. Our new building is a near-zero-energy and eco-friendly building, we reduce our carbon footprint on international travel by reducing it and offsetting the carbon on all staff flights in the school. We are now extending this to one return flight per international student too. We are conscious that, beyond energy and travel, livestock agriculture can have negative effects on carbon emissions and so the school adopted a veggie-first food policy. Essentially, all food purchased by the school defaults to a vegetarian and vegan menu.

 

(PR): In your opinion, what is the sweet spot or perfect equilibrium between theory and real-life business?

(AB): Our MBA is a perfect example of this. The last 40% of the program is made up of three company projects. The first is a corporate strategy project with a corporation, which fits in nicely here in Dublin where we are fortunate to have so many multinationals on our doorstep. Students also do a fast-growing small- and medium-sized enterprise project for a new venture and a non-profit social enterprise project. This approach to education is a core part of the school's DNA.

Staff are also a decisive factor in this balance. As a business school dean, it is important to hire researchers who love to teach and teachers who do top-notch research. It is so easy in this job to look to Excel in one metric—for example, build a faculty that can blow the ceiling off in terms of publications in the top journals. But the challenge is that, if you focus exclusively on that goal, you will normally end up with faculty who do not want to be in the classroom for starters, or who do not really have much interest at all in impact and are more interested in citations. The sweet spot is in the labor market and finding the small proportion of people out there who have an interest and potential for both excellent teaching and research.

When I joined the school, we had several people who had not published at all yet but were brilliant in the classroom. We brought in some international research mentors to work with them. I thought if we could get half of this subset to transform into researchers, that would be a great result. We ended up getting about 85% publishing in top journals. When we hire in the market, we have a minimum condition in terms of the number of high-quality publications required, but our job placement adverts also say something along the lines of, if you prefer to lock yourself away in your office and find students an inconvenience, then Trinity is not the place for you. We want people who want to be in the classroom and want to make a big difference to the careers of students and the organizations in which they work.

Then, what really works into that are the students. We have been extremely lucky in that regard because what was already here were vibrant student societies. So good, in fact, that we linked some of our course assessments into some of these. We are doing such great stuff with our student-managed fund on the stock market, so we have worked it into our class time.

(PR): How has executive education evolved at your school in recent years and what exciting new programs are now on offer or will be launched soon?

(AB): We want executive education to impact business and society, and increasingly engage with industry. Our executive education program interacts a great deal with our research centers like the Centre for Social Innovation and the Centre for Digital Business and Analytics. These are not pure research centers, but 360-degree centers of expertise. Not only does their research result in thought leadership, but they also do a lot of research that influences policy change and frequently actually manage projects. For example, they manage green-city projects across Europe.

Income generated through executive education is also used to fund faculty posts, so the connectivity within the whole organization is critical. Our key performance indicators for a director of executive education is not just the usual ones around finance and rankings, it is also about the level of connection and impact. During the COVID-19 pandemic, we ran a series of free workshops called Reboot and Reignite to help affected businesses build back better, to borrow a term. We choose the projects we feel the strongest about, which are not always the most lucrative ones. We prioritize our work with hospitals here in Ireland that generally face huge managerial challenges. This has led to another contract within the Brazilian healthcare system where doctors from Brazil come over here, so healthcare leadership is an area of expertise within the school.

(PR): If you could choose anyone from history as your mentor, who would you choose and why?

(AB): Rather than choosing just one individual, I take inspiration from diversity. If one situation is very different to another, it usually requires a different type of leader. I am a real believer that everybody has got something to offer. It is kind of like the tapestry of humanity in many respects, which feeds back to some of my core research interests in entrepreneurship, as well as organizations using external contractors to enhance their capability beyond the confines of their employees' talent pool. The trick in management is to find, nurture and harness the diversity of talent necessary to create an agile organization with an expansive ambition. I have recently been attracted to the Quaker tradition, which takes the view that if there is a god, and if humanity was created by that god, then humanity has to reflect the diversity of that source and so diversity is not only to be cherished but is most likely a source of human creativity and development. I suppose I admire that philosophy, rather than having one person's life as my North Star—although I understand well how having a role model can provide great focus, which can be a recipe for success too.

(PR): Do you have a final message for the readers of Foreign Policy magazine?

(AB): My final message has to be the agenda of climate emergency, biodiversity and human rights in general. We have never been at a period where ethical leadership is so important, and everyone must rise to the challenge. This requires an activist type of leadership. Things will not happen without that. It also requires us, both from an organizational point of view and from a personal point of view, to take steps to walk the talk. This does not mean a change overnight, but we need to get a timeline that is swift enough to hold off environmental catastrophe and then stick to it. As business schools, we have got to make these adjustments because without doing so we will have no credibility as educators of ethical leaders.