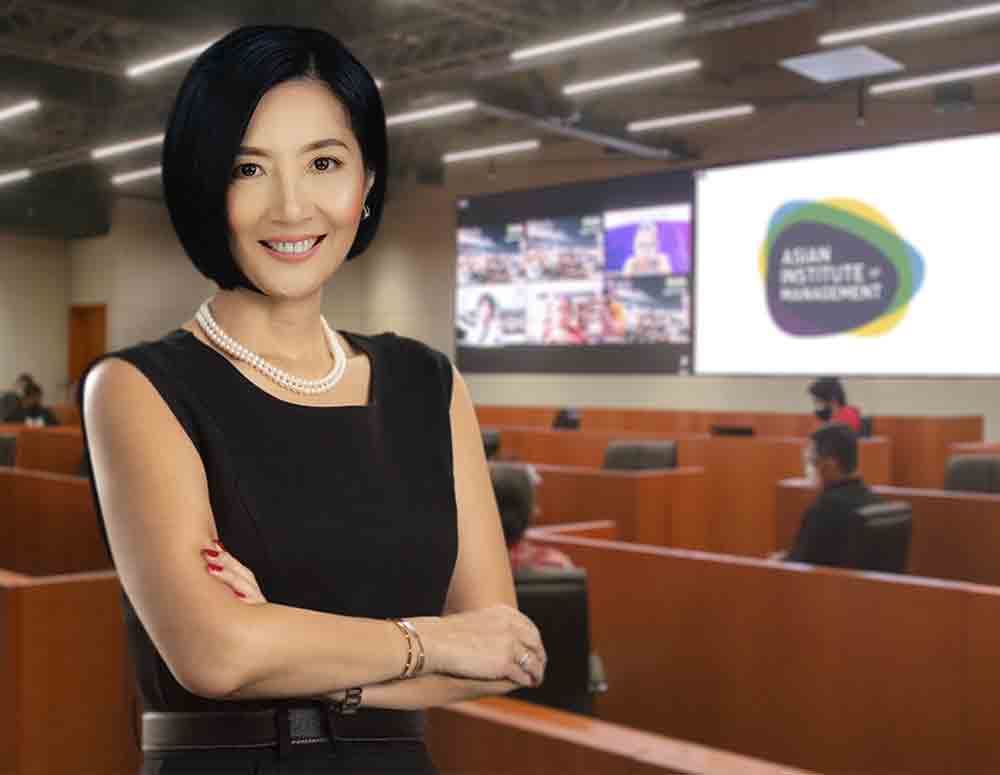 05 Oct

Education sector calls on collaboration for the advancement of society
Jikyeong Kang, President, Asian Institute of Management, discusses the importance of tying government, industry, academia and community together to confront today's new challenges
What makes Asian Institute of Management (AIM) unique from other similar institutions?
We are a stand-alone business school with our own heritage and legacy. We were established almost 53 years ago by Harvard Business School's advisory board. Our birth was unique compared to other government-funded or privately established universities as it was a collaboration with Harvard Business School and top corporations in the country. We were dubbed the Harvard of Asia for many years.
We try our best to turn the fact AIM is small to our advantage. For example, we do not have a big engine to turn in terms of introducing innovations. The role of business education is to produce skillsets required by industry. We are agile and can act on what we believe to be the latest trends. We recently established a new school called the School of Innovation, Technology and Entrepreneurship that houses three Master's programs: Master's in Entrepreneurship, Master of Science, Innovation and Business and Master of Science in Data Science. Our Master's program in data science is the first in the country and one of the first in the region. Last year we welcomed our first intake of PhD students in data science. Its establishment speaks to the strength of our institution. Many of my colleagues in Europe and America are finding it difficult to start data science programs since they want to be claimed by various departments, such as computer science, mathematics and statistics or business. As AIM was not known for having expertise in science or technology, many initially argued we should not launch the program. However, we were stubborn and convinced naysayers. The program is now ranked third overall in the region, ahead of Singapore and top regional schools. Furthermore, we were able to receive the largest single cash donation in the Philippine's higher education history to name the school Aboitiz School of Innovation, Technology and Entrepreneurship.
What challenges does AIM have in remaining competitive in the field of business education?
Business schools are closely tied to what is happening in their respective countries; one cannot disassociate a business school from its environment. When we began, the Philippines was a rich country, but this is no longer the case. Much has happened politically in the country. Many of our ex-presidents are more infamous than famous and while we have been maintaining the status quo, neighboring nations have developed rapidly.
Many countries in Asia have invested in education and business schools, weakening our relative position. The days of sitting back and having students knocking on our doors is gone. Competing schools are doing well. With new accreditation standards, if a school has a high attrition rate and low retention rate, it will be slaughtered on the market. If institutions do not think about their competitive advantages, it can be hard to survive. Business schools need to change our mentality and attitude, and AIM is doing just that.
How has the move to virtual classrooms due to the pandemic benefited academia and beyond?
Historically, our school has been deeply rooted in case-based teaching and participant-centered learning. Although we are small, some of our faculty were resistant to online teaching and blended learning because they believed it would not be as effective in maintaining our teaching philosophy. We tried online executive MBAs almost 10 years ago and it did not go very well. However, in the first week of March 2020 we had to transform all our seven Master's programs to being taught in a Zoom environment almost overnight. Our staff worked 24/7 in two or three shifts to produce materials to train and prepare our faculty. Most experts agree that online classes can only cover 60-70% of the original lessons per class if you use the same approach as a normal classroom. Naturally, the transition involved a lot of training. We brought in experts on online teaching, and even a former actor for stage presence.
The good news is the shift towards online teaching has been embraced by students. Before the pandemic many would never consider taking online courses. The audience has become more open at all levels. Additionally, these learners are no longer only undergraduate and postgraduate students. Many of our adult population are now continuing lifelong learning. If you think about the time we spend, the carbon dioxide we generate and the money we spend, a virtual environment is far more sustainable–not just in education, but in all sectors. The benefits significantly outweigh potential negatives, especially if done correctly. By utilizing blended learning and hybrid classrooms, we can provide access to learners in far flung places who would never have access to degree or non-degree programs. Online exposure will accelerate the pace of badges, certificates and stackable credentials for workers all over the world.
How important will lifelong learning be in the world of the future?
Lifelong learning is not going away. People currently change jobs a maximum average of three to four times during their professional lifetime. However, it is predicted that in 20 years workers may see an average of three to four career changes in their lifetime–and this is across completely different sectors. For example, one may work for a magazine initially and then become an artificial intelligence program designer. Learning incremental knowledge will be constantly necessary.
Most employees currently think that it is up to them to fill in gaps in knowledge and skills. However, it should not be left to individuals to figure out how they can continuously learn and reskill; this needs to also be the responsibility of corporations and governments. Currently many companies let older staff go because they feel older generations cannot keep up with new technologies. We cannot keep doing this. Companies need to invest in training, retraining and developing staff. The same goes for the government in terms of placing policies to encourage corporations to consider lifelong learning.
How does the school engage with the idea of sustainability in its operations and classrooms?
We need to process sustainability on many different scopes. Inwardly, the school has changed its budget to allow zero spending on printing and copying. We used to spend a lot of money on this, but we operated fine without having to print or copy much during the pandemic.
In the classroom we teach sustainability in all departments from many different directions. For example, finance professors can talk about sustainable financing and reporting. We touch on sustainability in the same way we touch upon ethics. It is not taught in a separate or stand-alone course. We have a Center for Sustainable Finance that is led by a thought leader. He is in contact with financial institutions, including the Central Bank of the Philippines, for the importance and delivery of sustainable finance. He pioneered the center about four years ago when he joined our institution. He is an ex-banker who did a PhD in Switzerland on sustainable finance.
What important changes in academia do you think are necessary?
One of my pet peeves is the focus on research and publishing in PhD programs. Many PhD programs at top schools do not focus on how to become a good teacher. We want to make sure our graduates are not only excellent researchers but form a basic understanding of different modalities and skill sets they will need to be a good teachert. For example, teachers now need to keep the interest of a new generation of students who have never grown up without the internet and expect to be engaged through multiple devices at the same time seamlessly. A completely different skill set is required, and institutions need to deliver to meet their expectations.
Additionally, we used to have a joke about the number of people that read published academic articles because they are so specialized. We need to change this attitude. A lot of what we do in academia can make significant contributions to corporations, policies and people's lives. Traditionally, academics keep their knowledge within their own community and most business leaders think that academic research is purely theoretical and does not bear relevance to actual practices. However, there is a lot of applied research that is extremely useful. We need to take knowledge dissemination seriously and broaden our audience.
How important are partnerships in developing academia and society?
I am a firm believer in the full partnership of academia, private industry, governments and communities. AIM is currently delivering what we call the Global Academic Leadership Program. A big portion of this program is how to transform the Philippines' higher education sector to embrace the notion of smart universities and digital transformations. It is funded by the Philippines' Commission on Higher Education (CHED). The Philippines' government realizes our education sector requires various overhauls, including digital transformation. The program has been well received. We are now getting requests from private and local universities for the similar service. CHED has asked us to send a proposal to run similar programs for private colleges and universities. This is a good example of how academic institutions can work with the government.
We are also helping the government launch a successful track and trace application for COVID-19. Many were floated, but government procurement policies meant going through often lengthy and specific steps. Instead, they came to us because we have the best data scientists in the country and can do this easily. The software will soon be launched. This project brought together several societal pillars; funding was provided by the private sector for a government-initiated project. Later we will work with communities to test the app in the real world and make further improvements.
I believe in a multidisciplinary approach to problem solving. Business schools should not just remain in their own world. We need to learn from other schools, such as engineering, science and even arts and humanities. We are in the process of developing a Master's program in fintech. Collaboration with the financial industry will be vital. We are also in the initial stages of developing a business law program. Business and law have a lot of intersections that could benefit the real world if we work together.